Jupiters multilingual website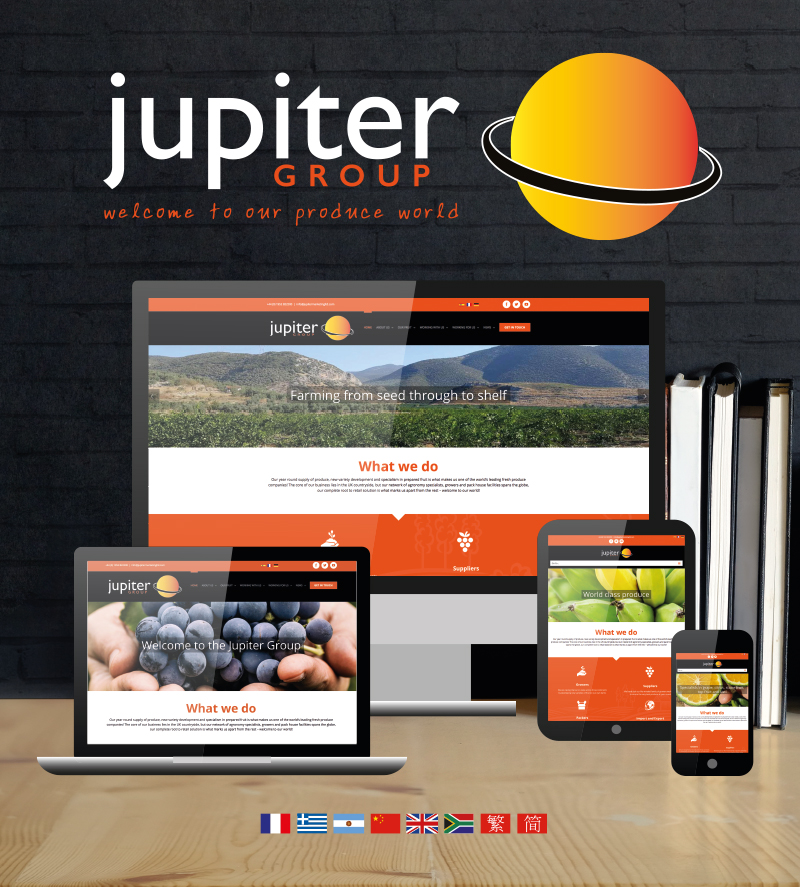 Wotsit has designed and built a new multilingual website for Jupiter Group's international operation.
As the family-run firm continues to grow its impressive portfolio and to further expand its presence in international markets, its owners, husband and wife Mark and Yvonne Tweddle, wanted its website to be accessible to all interested parties worldwide. It called on Wotsit to achieve its goal of having a website that could easily adapt to the first language of people visiting the website from outside the UK.
It was a significant and challenging transition to set up for the Shropshire-based firm. But it was easily achievable as Wotsit Design always ensures that it remains at the forefront of digital technology, so it can consistently deliver solutions for clients that are at the cutting edge.
Now with just a quick click of a button at the top of the homepage, and within a matter of seconds, all its web pages are translated into several languages, including from English into German, French, Spanish, Greek, Hindi, South American and Chinese. Jupiter's website therefore stands out from other sites which rely on external applications to transform website's page by page to the best of its ability.
Wotsit Design works with clients to help them stand out from the crowd and that's exactly what this digital transformation achieves for Jupiter as it now boasts a world class website that matches its enviable world-renowned reputation.
To further help clients to visualise Jupiter's global presence, the website now also features an interactive global map giving the site yet another edge on its competitors.
Adam Fleetwood, Wotsit Design's Managing Director, said: "The Jupiter website allows any user to view Jupiter's history, services and products, and catch up on all the latest news in a number of languages.

"So, it's now not only clear and transparent for its English users but international users too.

"With a simple interactive map on the homepage users can also take a quick glance around the world at where Jupiter operates, both in terms of offices and where farms are based for example.

"Therefore, as well as an international presence in real terms the company's global embrace is now also visually reflected on its website."

Adam added: "We never rest on our laurels at Wotsit Design because we want to ensure all our clients continue to garner interest and attention to further build their businesses.

"So, we will be constantly monitoring the new website so its continues to evolve and keep up with Jupiter's extensive business growth on the ground."
More Projects
WEB • BRANDING • VIDEO

Turning an ambitious idea into a solid reality is Wotsit Design's bread and butter, from initial concept, through build and at launch Adam made us feel confident in the choices we made together to nail the purpose of the site, future proof its ability and of course get the aesthetics just right. Most importantly we felt like our needs, wants and likes were listened to and we were given options to choose from.

Adam's ability to turn work around in almost impossible time frames is incredible and at no point did he make us feel guilty for our endless changes, tweaks and light bulb moment ideas. Wotsit Design now provide further digital solutions in other areas of the business following the initial projects outcome. I have no hesitation in recommending Wotsit Design for website design and build.
'Friendly, efficient, creative and competitive. Wotsit Design will be sure of our return visit for quality video production, brochure development, printing and website design'
Adam provides a first class service and is a pleasure to work with.

I particularly appreciate his friendly professionalism and unfailing attention to detail, which makes my life so much easier when dealing with exacting clients who demand the very best.
Dear Adam

I have to write to say how delighted I was to receive the brochures you have produced for our development project which we are about to launch for sale. I am so impressed with the quality and presentation and I know this will be such an advantage to our marketing.  I also think it is very important to thank you personally for your ideas and input throughout our initial discussions and the efficiency in which any amendments we chose to make were dealt with. Our Clients were so pleased with the final product which is down to you so my grateful thanks and appreciation for a job well done.  We will be contacting you with all our future projects.
As a previous client of Wotsit Design I can attest to the quality of work Adam produces. His professional and speedy approach with the 360 website meant that we could get our new site up and running extremely quickly.

The format and design of the website produced from our initial meetings was excellent and impressed all of those involved. Adam's ideas for the website and marketing strategies have helped us shape the direction of our own company and he's been a huge help providing support with social media campaigns too. Wotsit design has designed and provided high quality and eye catching marketing material for us now on multiple occasions and I've always been impressed with the ideas and the quality of materials produced. Wotsit Design is now our go to provider of for all our marketing materials. It's extremely convenient to be able to give Adam the information needed, knowing that I'll soon receive back a fantastically designed product to sign off and use in our next campaign.

I would highly recommend working with Adam at Wotsit Design and we look forward to our continued relationship in the future.
TRUSTED BY GLOBAL AND LOCAL BRANDS